It's been said that there is a season for everything.  Well, it's certainly been a season for quilting around here!  Two feet of snow, single digit temperatures and covid uptick warnings make you just want to stay home where it's nice and warm.  And, of course, what else is a girl to do?  Quilt, I guess!  I don't really need an excuse to hide away in my quilt room but when the opportunity is so obvious(!!!) you have to take advantage of the situation!  Right?? There is no place I have to go, no kids to look after and no gardens to attend.  All that will come soon enough.  So, right now I'm easy to find……I'm upstairs cutting fabric into little pieces and sewing them back together!  I will surely welcome Spring but right now there is Pure Joy!!!
I want you to know that I always make the mystery quilt before I decide to publish the clues.  Pinwheel Surprise is no different. I completed one of the smaller sizes but I decided to make the large size too.  The "surprise" shows up amazingly on the large version and I really wanted to see it in all its glory.  So I decided to make it right along with all of you.  Last month I made the 38 pinwheels and I'm up to date with this clue. (Phew!) I had a date with Jack (the ripper) yesterday when I put the piece in the wrong place but thankfully I caught it before I'd done a whole string of them.  I hate it when that happens!  So don't feel bad if you mess up.  I still do and I "invented" this pattern!  LOL!
Be careful not to stretch your bias edges.  I have tried to help a bit by having the bias edge sewn to a straight grain piece.  I don't starch or prepare my fabric any other way. I just line up my pieces and let the feed dogs on my machine move the fabric along. If you trim to size as you go the pieces should all fit nicely and a good press will help with a nice flat finish. OK, enough with my hints. On with the clue!
  Pinwheel Surprise – Mystery 2022
Clue #2
Cut 2 – 2 3/4″ white squares on one diagonal.  Cut 2 matching colored 3 1/4″ squares on 2 diagonals.  Sew as shown.  Press open.
2. Sew the other sections as shown to make 4 flying geese.  Press open and trim dog ears.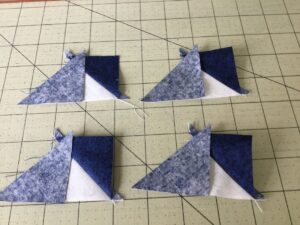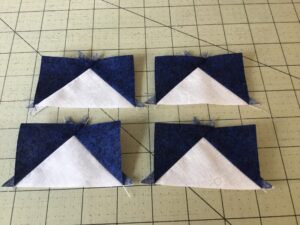 3. Select one 3 1/4″ colored square.  Sew one flying geese unit to the top and bottom.  Sew 2″ white squares to both sides of the two remaining flying geese. Sew these sections to the two remaining sides as shown to make a star block. Press and trim to 6″ square.  Make 6  (12)   20.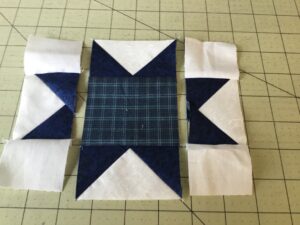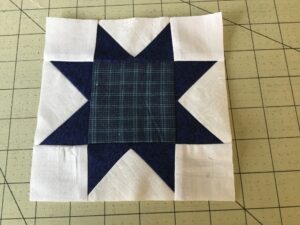 4. Cut the assorted light 4 3/4″ squares on one diagonal.  Resew unmatched assorted sections to make 4 1/4″ squares as shown. Make 24 (48) 80. Press and trim. Put the rest of the unsewn sections aside.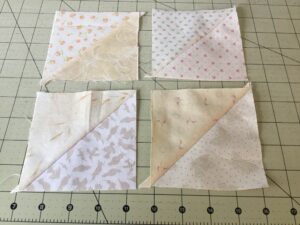 That's all for today.  For those who ask, there will be three more clues with the reveal in May. Look for the next clue on March 9th.
Happy Quilting!
PLEASE DO NOT SHARE THIS INFORMATION ON FACEBOOK.
I ask that you send people here to the website for information.  If you have not joined in the fun on Facebook, check me out at MakingScrappyQuiltsWithCharlotte. I love seeing all your hard work and getting to chat with you a bit.
Please feel free to direct others to this website for the information and clues. 
THANK YOU FOR YOUR COOPERATION!
© 2022 Charlotte Hawkes. All rights reserved.
Written permission is required to copy and/or distribute copies of this pattern whether or not you profit from it.