Halleluiah!  Surprise!  We made it to the final clue and the reveal!  So what's the big surprise?  I thought it was interesting and kind of unique that the borders on the pinwheel blocks presented they're own surprising border of they're own.  And, if you made the large size, the center pinwheel blocks with their border made another surprise feature. Hence, Pinwheel Surprise! I know that working with bias edges can be a challenge and some of you had issues because your blocks didn't come out to size. Not to worry! Most importantly I hope you enjoyed the process and had fun with it.  Simple pleasures!
However, taking the pictures of my quilt tops laid out on my backyard was a challenge.  Spring seems to be late this year and the little no-see-um black bugs are everywhere.  In your hair, in your ears……everywhere! And they bite! They love to ride in on your clothes so they can attack you when you're sitting on the couch and you least expect it. Gladly they only stick around for a couple of weeks.  But then we'll have the mosquitoes! (sigh!)
The other challenge was the wind!  I finally finished the borders on the large quilt last week and every day since then the wind has been blowing or else it's been really cloudy.  I don't have a spot large enough inside to lay the top out to get a good picture so I was hoping to get some good weather.  Yesterday we had just a nice breeze.  But every time I got the top straightened the breeze picked up and flipped it over.  What fun!  But I finally did it!
This quilt can certainly be a scrap buster!  I totally used my scraps and stash.  Fortunately or unfortunately, I didn't make a dent in either.  But every bit counts as I try to use it up.  You can't take it with you know. And, I'm on a quest to not buy any fabric! I'm using what I have and making it do!  Somebody will love it……somewhere!  Just like there are no ugly children, there are no ugly quilts! And beauty is in the eye of the beholder!  Right?!?  And if you cut off your points the quilt police will not arrest you!  I Promise!!! Just tell them I said it was OK!  (I miss my emoji's here…….happy smiley face!)
OK, so here's the last clue for this mystery.  As I said before, I hope you had fun and enjoyed the process.
Pinwheel Surprise – Clue #5
Assemble the blocks by size as shown below. Make 2 borders: cut 2″ border strips using the inner border fabric then add 4″ border strips using the outside border fabric.
small: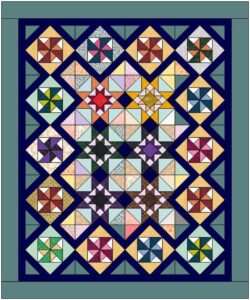 Medium: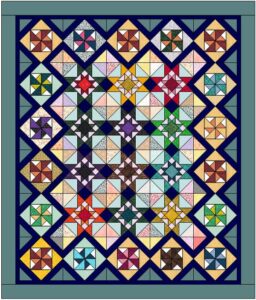 Large: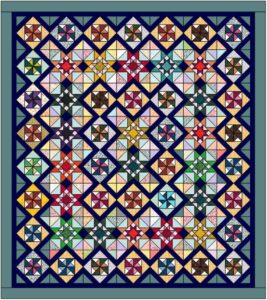 Finish with your choice of backing, batting and quilt as you desire.
_________________
Here are mine.  I made the small top first and then I decided to make the large top right along with you so I could see that Pinwheel Surprise in the middle.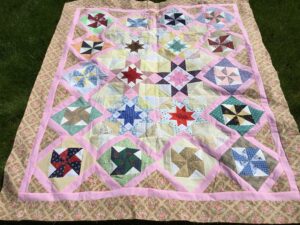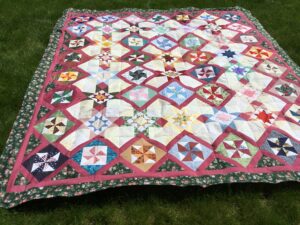 Thank you for your thoughts and comments as we worked through this mystery.  Although I have never met most of you I often fondly think of you as long distance friends. What fun! Don't ever think you're too old to do stuff!!! I never would have believed that I'd be here ten years ago.  But here I am!  Thank you again for being part of my journey.
Until next time – Happy Quilting!
PLEASE DO NOT SHARE THIS INFORMATION ON FACEBOOK.
I ask that you send people here to the website for information.  If you have not joined in the fun on Facebook, check me out at MakingScrappyQuiltsWithCharlotte. I love seeing all your hard work and getting to chat with you a bit.
Please feel free to direct others to this website for the information and clues. 
THANK YOU FOR YOUR COOPERATION!
© 2022 Charlotte Hawkes. All rights reserved.
Written permission is required to copy and/or distribute copies of this pattern whether or not you profit from it.