The Holidays are over.  Good or bad!  It's a new year and things are settling down.  Our decorations are almost all put away.  Isn't it interesting though that you always find one hiding out somewhere.  Kind of like finding pine needles in July when everything has been cleaned time after time.  Where do they hide out?
This year I finished all my Christmas projects…..on time!  I posted pictures of the quilts for my young grandkids last time.  I'll show you two more. Labyrinth Path for my twenty something grandson and, yes, I know.  It's Not Scrappy!  I figured he'd like this better than one of Grandma's scrappy quilts.  But as he gets older maybe a scrappy one will be in order.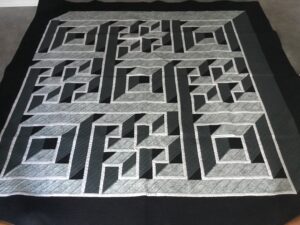 This one was gifted to my son and DIL. They both seemed to really like it!!!  My DIL said she even liked the backing!  So my cherished Whirligig that was a UFO forever and took me 9 months to quilt found a new home! Oye!! I hadn't counted the 9 months before…..I feel like I BIRTHED it!!!  But what a joy it was!  I love this quilt!!!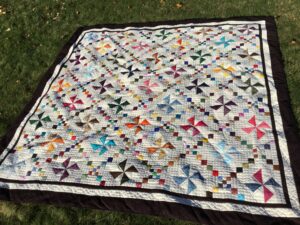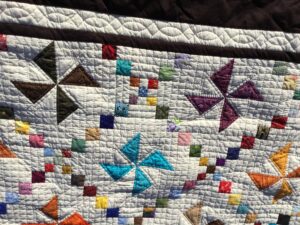 The week after Christmas I decided to clean up my Christmas scraps.  In the process I found two sets of blocks that I started last year.  One was ready for sashing and lay out and the other needed some additional squares.  So, in my process, I cut all the sizes that I can get from my scrap which gives me multiples of different sizes (see my scrap organizing post).  Anyway, I decided I'm going to finish these two tops even though I'm "done" with this Christmas stuff and I want to move on to something else.  Is that discipline or what!?!  They can live happily in the "needs to be quilted" pile until next holiday time. But more importantly, my Christmas scraps are all cut and not in a hot mess.  They will be labeled, stacked to size and stored in a bag until the end of the year when I'll be thinking about making holiday gifts again.
Next week will be MYSTERY Time!  So stay tuned!  I've already made two!  I'm thinking maybe I'll make another along with all of you.  My friend, Kim Werth, who is an award winning master longarmer, asked if I would let her quilt them.  Well, Yeah!!!!  I'm anxious to see them in person.  I've only seen pictures but they are AWESOME!  Unfortunately, you'll have to wait for the reveal!  Sorry!  But….Get Ready!  The first clue for Scrappy Four Patch Stars will be out on Thursday the 14th!
See you next week and Happy Quilting!
PLEASE DO NOT SHARE THIS INFORMATION ON FACEBOOK.
Please feel free to direct others to this website for the information and clues. 
THANK YOU FOR YOUR COOPERATION!
© 2021 Charlotte Hawkes. All rights reserved.