This has been one of those computer days!!!  You know….ugh!!!  I don't use my laptop that often…..mostly for paying bills and doing the WordPress/website thing, like when I'm doing this post.  So this morning I thought I'd get a nice early start.  It took 45 minutes for my laptop to load!  So sloooooooooow!  I'm thinking "what is going on?!"  Then a notice came to that there were updates that should be installed…….did I want to restart and install.  UGH!!  I guess so!  So I vacuumed, shoveled the snow off the deck for the dog, folded some clothes and washed a couple rugs. (Sigh), talked to the hubby and played a couple games on the IPAD.  (Sigh)  Here I am 4 hours later!!!  OYE!!!  Don't ya just love technology!!!!
I have to say it feels a little strange with this mystery.  With so many sizes to chose to make, the smaller ones just don't give you that much to do!  I feel bad.  I am making the small one right along with you even though I made a pact with myself that I wouldn't start anything new.  That didn't last long.  I like to work on a bunch of things all at once.  I started a scrappy Valentine's Day wall hanging after I was looking though some old quilting magazines.  I had to modify it of course.  It was too small for the space I have to hang it. Huh!!! I could have worked on it for about 4 hours today….lol!  I didn't think of that!!  It won't be finished to hang before Valentine's Day but there is always next year.  I'm also trying to finish the border on a tree and leaf quilt that I started for my youngest son probably 20 years ago.  It got put in the "Time Out" pile after I asked him if he wanted it.  He told me he had to ask his fiancé……WRONG answer!!!  Time Out!!!  Now he's asking me if I'll ever finish it.  I guess it's time.  It's a hand pieced queen size and it needs flying geese all the way around to finish it.  What was I thinking?!  Thankfully, it's going faster than I thought it would.  Those geese are all machine sewn! I will hand quilt it – probably next.  I'm still quilting the one I started the Sunday before Christmas and it's about half done.  Here's a peak.  I like it!!  Sets off those stars…….don't you just love stars?  You know I do!!!!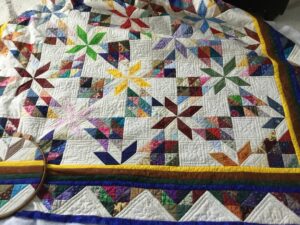 OK, enough about my exciting life!
Mystery 2021
Scrappy 4 Patch Stars  –  Clue #2
3.  Using 4 assorted colored 2 1/2″ squares, make a 4 patch block as shown below. Press and trim to 4 1/2″ square.  Make 13 / 18 / 25 / 32. Chose 4 / 6 / 9 / 12 and set the rest aside.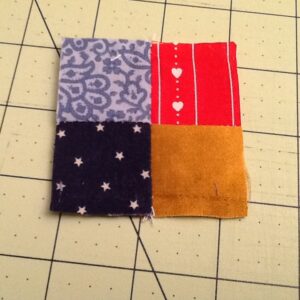 4.  Using the 4 matching 2 7/8″ squares (Or if you used a 6″ square – cut  and trimmed to 4 – 2 7/8″ squares)  cut each 2 7/8″ square on one diagonal to make 8 HST ( half square triangles).
5.  Using 1 – 5 1/4″ background square – cut on both diagonals.  Sew one colored HST to each side as shown to make 4 matching star points (flying geese). Press and trim dog ears.   Should measure 2 1/2″ x 4 1/2″.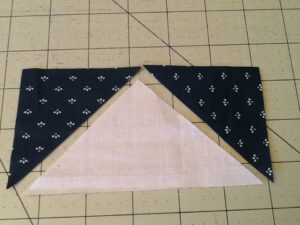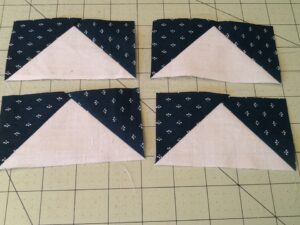 6. Using a 2 1/2″ x 4 1/2″ background rectangle, sew one to the long side of the above units as shown. Make all four.  Press to the background side and trim to 4 1/2″.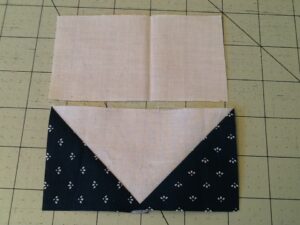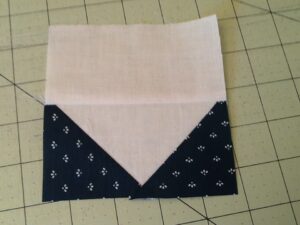 7.  Sew one star point to the opposite sides of a 4 patch as shown.  Make sure that the background is facing out.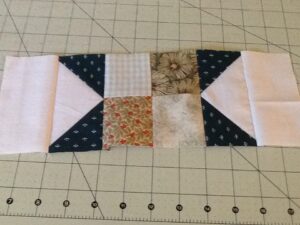 8.  Sew one unit that was made in #2 to each side of the two remaining star points as shown making  sure that the colored square is on the  upper outside corner.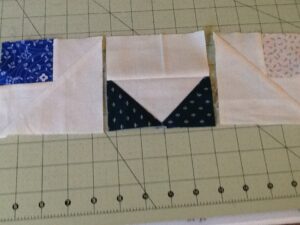 9.  Sew each side to the section in #7 to make a small 4 patch star block as shown below. Press and trim to 12 1/2″ square block.  Repeat to make 4 / 6 / 9 / 12 blocks.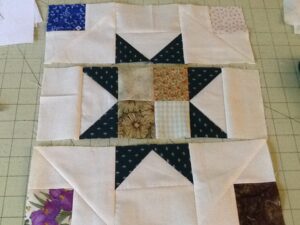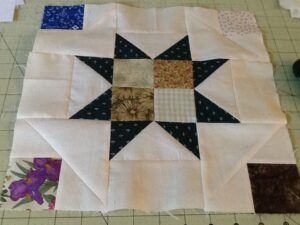 There you have it!  The next Clue will be released on March 11th and hopefully some Spring weather along with it!
Have Fun and Happy Quilting!
As usual, PLEASE do not post these instructions on Facebook.  I ask that you send people here to the website for information.  If you have not joined in the fun on Facebook, check me out at MakingScrappyQuiltsWithCharlotte. I love seeing all your hard work and getting to chat with you a bit.
PLEASE DO NOT SHARE THIS INFORMATION ON FACEBOOK.
Please feel free to direct others to this website for the information and clues. THANK YOU FOR YOUR COOPERATION!
© 2021 Charlotte Hawkes. All rights reserved.
Written permission is required to copy and/or distribute copies of this pattern whether or not you profit from it.