I'm hoping Spring is upon us here in western New York.  But with the wild swings in weather lately who knows!  Last week we had single digit temperatures.  Today we may hit 70 and break a record.  The Fed Ex guy just delivered the strawberry plants and summer bulbs that I ordered two months ago.  But the ground is still frozen so they have to wait and so do I!  I'm anxious to get out there! I want to play in the dirt!!!  My snowdrops are trying to open up and the birds are making their way back.  So soon I'll have more options for what I'm deciding to do with my day.  Until then we have a mystery quilt to build!
Last year I took a couple days and sorted out my sewing room. I like to think of myself as pretty organized but things got put here and there.  In the process I found sooooo many projects that I had started and never finished.  I have been trying to stay focused on finishing some of those UFO's or at least upgrading them from pile to pile. My system is set up so that quilt projects that have blocks that are unfinished and need to be pieced are labeled with the block and quilt pattern, focus fabric and additional parts and pieces stored all together in a plastic ziplock bag.  I have a post-it note with the number of blocks needed and hash marks showing how many blocks are finished.  When all the blocks are completed I usually sew the blocks and sashing together so I can see how it looks. Then, I have a sigh of relief and accomplishment!!  Yayee!! Here I decide whether it needs a border or not.  If I decide it does, then it will graduate to the "needs border pile" with a note that says "needs border". After the border is completed, the quilt top goes to the "needs to be quilted" pile  I usually choose a backing fabric at this point.  I continue to label the ziplock bag at each stage so when I get the quilt top together and finished, all the backing and binding is there so I don't have to go looking for it months (or years….lol!) later!  It is ready to go!  Fortunately or unfortunately there is only one of me but sometimes I wish I could work on more than just one thing at a time.  That "needs to be quilted" pile grows way too fast!  At least now I know what I have and what needs to be done with it.   I hope this may help some of you to get a handle on that UFO, WIP (works in progress), PIB (projects in bags), etc.
Mystery Quilt 2021
Scrappy 4 Patch Stars  –  Clue #3
10.  Cut one set of two matching 5 1/4″ colored squares on both diagonals.   Cut one contrasting colored 5 1/4″ and one background 5 1/4″ square on both diagonals.  Using two sections of the matching squares and one section of each of the background and contrasting squares, sew together as shown below. Press and trim to 4 1/2″.  Make 4.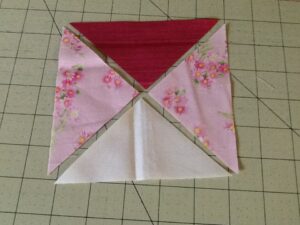 11.  Choose one 4 patch made in #3.  Sew one section made above to each side of the 4 patch as shown making sure that the contrasting section is next to the 4 patch square as shown.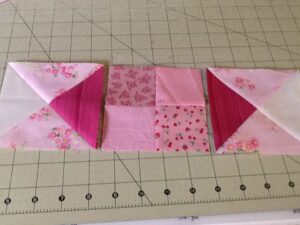 12.  Using the last two sections made in #10, sew one section from #2 to each side as shown below.  Make sure that the corner squares are oriented correctly.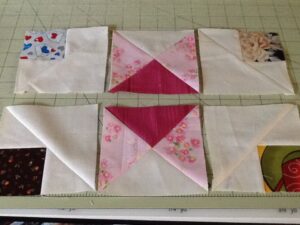 13.  Sew one strip to each side of the strip made in #11 to make a large 4 patch star as shown below.  Press and trim to 12 1/2″ block.  Make 9 / 12 / 16 / 20 blocks.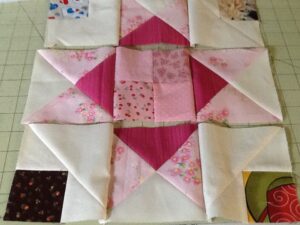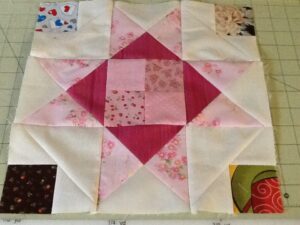 The next Clue will arrive on April 8th
Have Fun and Happy Quilting!
As usual, PLEASE do not post these instructions on Facebook.  I ask that you send people here to the website for information.  If you have not joined in the fun on Facebook, check me out at MakingScrappyQuiltsWithCharlotte. I love seeing all your hard work and getting to chat with you a bit.
PLEASE DO NOT SHARE THIS INFORMATION ON FACEBOOK.
Please feel free to direct others to this website for the information and clues. THANK YOU FOR YOUR COOPERATION!
© 2021 Charlotte Hawkes. All rights reserved.
Written permission is required to copy and/or distribute copies of this pattern whether or not you profit from it.