Well, here I am.  The Sunday before Christmas and what am I doing?  I'm crawling around on the floor pin basting my next hand quilting project.  It's one of those UFO's that have been around for umpteen years waiting for some attention.  It's all hand pieced too!  A queen size!  I'm not sure what the pattern was called since it's been in "time out" for probably 15 years or more.  Oye!  But, I'm sure it's up there in the quilt archives somewhere.  I don't have anywhere to lay it out totally so I pinned half, rolled it up and spread out the rest.  My old knees needed a rest so I thought I'd try out a post on the new website.  I just need to make sure I get to finish pinning the rest and get it up off of the floor!!  And be able to get ME up off of the floor too!!!  LOL!
While I'm at it I'll show you a few things I finished lately.  Last year I made up some scrappy table runners just because.  Because I had scraps!  Go figure! And I like to play around and see what happens.  This year I decided it was time to finish them. I ended up with 8 or nine and they turned out pretty good.  My church group had a women's Christmas party so they found a good home. They seem to like them and I had fun making them.  That's the important part right?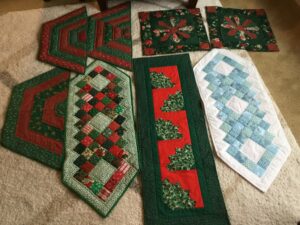 These are Christmas quilts for my grandkids in Vegas.  Lizzie is 7 and thinks she'd like to go to Mars.  Matthew just turned 9 and likes fossils and dinosaurs.  I bought panels a couple years ago and you know how time flies!  I figured I better make them up before they're in college!!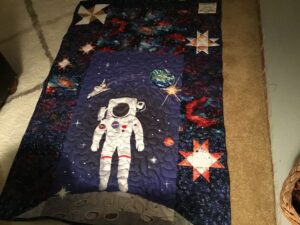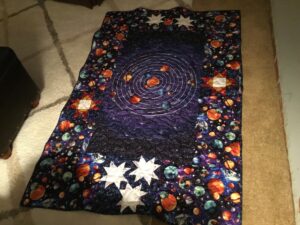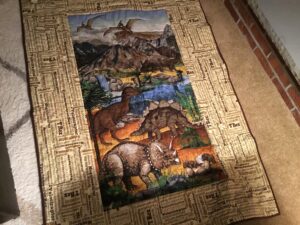 Well, I better go back to crawling on the floor. I don't know how I'm going to quilt this yet but I'm sure it will give me some ideas. They speak to me, you know!  I'll be showing you when it's finished.  And we'll see how this first post works out.  Bye for now and happy quilting!