Wow!  How time flies!!! I can't believe it's been a month already since I posted the last clue!   I am trying to sew at least one hour every morning continuing to work on my UFO's.  Although I have to admit I have started a couple new tops.  I know….my bad…..but those patterns just called to me and my shoebox was almost overflowing with 2″ squares.  I could hear them calling to me……"sew me, sew me, sew me!"  So what could I do?  I had to sew them!  I saw a pattern on Facebook somewhere and I knew if I didn't start that pattern it would be lost forever.  And the block is just so darn cute I have to keep making them and, of course, my box of squares is just too delicious and fun to stop now!  But, you know, spring is definitely here and I love my gardens almost as much as I love quilting! My flowers are blooming! I planted radishes, peas and bunching onions in my veggie garden.  Nature is definitely calling me but I am determined to keep making those blocks!  I know nature will win out soon enough and I'll only be up there sewing away on rainy days.  But until then sew I must!!! Aren't these cute!!  I have no idea how I will put them together but until then I'll just continue having fun making more of them and using up that pile of 2″ squares.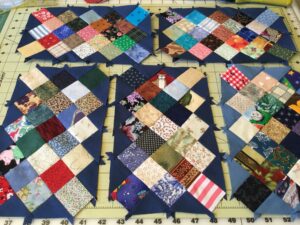 I decided to give you the last piece to the mystery but save the assembly and reveal until next month since it is pretty time consuming, especially for those of you who are making bed sized quilts. By now, you have probably made all the 4 patch stars so now is a good time to see if your outside border fabric is a good choice.  If you are like me and use random scraps, sometimes one color seems to jump out or is predominate. I look at my star blocks and choose a border fabric that I think compliments the colors in the blocks.  But I also have to admit that sometimes I just want to use something up.  Get it out of my stash! So, now is an excellent time to shop your stash and try out a few different possibilities.  A good word I like to use is audition.  Audition a few out of the box selections and see what happens. You never know what just might pop out.
Then again, I looked at this sorry meager #14 clue and I felt guilty.  With this addition most of you would probably be able to put the whole thing together anyway, so I refigured and decided to publish the whole quilt top and do the reveal!  So here it is!
Mystery Quilt 2021
Scrappy 4 Patch Stars  – Clue #4
14.  Cut the 4 7/8″ outside border fabric squares on one diagonal.  Using one unit made in #2, 2 – 4 1/2″ background squares and 3 HST's from the outside border fabric.  Assemble and sew together as shown below.  Press and trim.  Make 8 / 10 / 12 / 14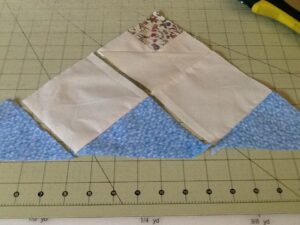 15.  Assemble the star blocks on point with the #14 sections as shown below alternating large and small stars. Use the 2 1/2″ x 12 1/2″ background sashing strips and remaining assorted 2 1/2″ squares as cornerstones.  Cut the 2 7/8″ outside border fabric squares on one diagonal and sew one HST to each end of each completed sashing strip making sure that it goes in the correct position.  Cut the 9 1/2″ outside border fabric squares on one diagonal and sew in the proper position on each corner.  Press and trim as necessary. Complete with a 3″ outside border or size of your choice.  (Note: Quilt sizes are as noted by large stars:  3×3 / 3×4 / 4×4 / 4×5.)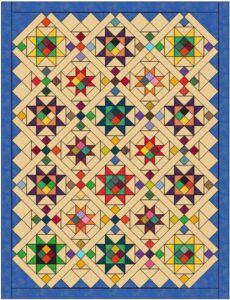 16.  Batting, backing and quilting as desired.  Enjoy!
Below are the three versions that I made.  The quilting on the first two was done by my good friend and longarmer extrodinaire, Kim Werth. Her quilting takes my scrappy quilts to a whole new level!  Thank you so much, Kim! She comments "These quilts were a unique challenge.  I wanted them to look completely different.  I really enjoyed the open space that made room to play.  Follow me on Facebook or Instagram, Kim's Quilting Corner, to see more of what I'm up to and get information on up coming classes that I'll be teaching."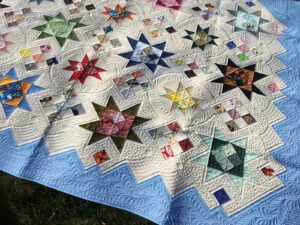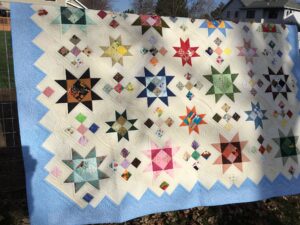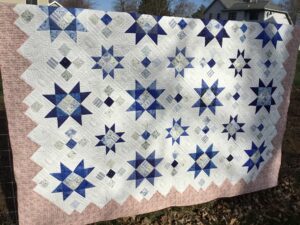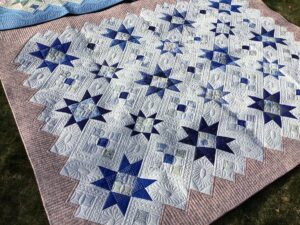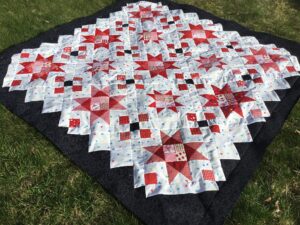 I hope you enjoyed making this mystery!  I look forward to seeing all the different ones that get posted on Facebook!
So until next time…..
Have Fun and Happy Quilting!
As usual, PLEASE do not post these instructions on Facebook.  I ask that you send people here to the website for information.  If you have not joined in the fun on Facebook, check me out at MakingScrappyQuiltsWithCharlotte. I love seeing all your hard work and getting to chat with you a bit.
PLEASE DO NOT SHARE THIS INFORMATION ON FACEBOOK.
Please feel free to direct others to this website for the information and clues. THANK YOU FOR YOUR COOPERATION!
© 2021 Charlotte Hawkes. All rights reserved.
Written permission is required to copy and/or distribute copies of this pattern whether or not you profit from it.