Here we are at the end of another mystery. The biggest mystery may be how we even got here! But we made it!!! We still have a bit to go but, like I said, the end is near! The light is at the end of the tunnel!
My life will, hopefully, get back to some sort of normal too. My mother's house is about to be sold. The estate sale starts tomorrow. But then there's the clean up of everything that didn't get sold. Happy Mother's Day! I still have to wade through probate for my husband. But this mystery can finally be put to bed. I've made both sizes and the two quilt tops are going to live in the "waiting to be quilted pile" for who knows how long but at least they are out of my hair! So…………Moving on!!!!
OK, enough of my ranting! I'm sure you all just want to see what craziness I have in store and how you put this crazy spinning thing together. So here goes!
Crazy Spinning Scraps – 2023 Mystery
Clue #5
NOTE: The next blocks will all be 25 patch blocks. I chose to use all 2″ (2 1/2″) squares because I liked the look of them instead of using larger squares and rectangles to fill in the spaces.  You may chose to do what you like as long as they measure 8″ (10 1/2″).  It is, in fact, your quilt! But the instructions will be for the 25 patch. Enjoy!
 Using 2″ (2 1/2″) background squares, sew 10 together to make a 2 x 5 rectangle. (Actually, you will need 16 of these but only 4 at a time). Sew 2  – 4 patches as shown below and fill in with the remaining background squares to make a 25 patch block. Press and trim. Make 4.
Using another 2 x 5 rectangle, 3 colored squares and 1  – 4 patch, fill in with background squares as shown to make a 25 patch. Press and trim. Make 4.
Apparently, I did not take a picture of the last square but it is a 25 patch with 24 background and 1 colored square on one corner. Use two 2 x 5 rectangles sewn together with one strip of one colored square and 4 background squares. Press and trim. Make 4.
NOTE: Next we will be assembling the blocks. I chose to make the center first and build around it as I go. Use whatever method you like to lay them out.
Using the 25 patch that was made in the first clue, add the above blocks that were just made to make the crazy spinning center as shown.
Add the 25 patch with one colored corner and the block from clue #1 with on the corner as shown below.
Follow the grid to complete the layout.Congratulations!
I hope you enjoyed this journey with me! Life does go on even in the midst of all the Crazy Spinning Scrappy stuff!
Cherish the ones you love and be Blessed!
Untill next time……Happy Quilting!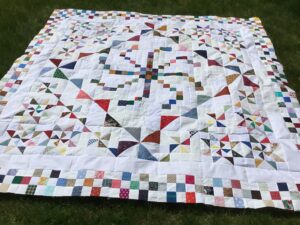 PLEASE DO NOT SHARE THIS INFORMATION ON FACEBOOK.
I ask that you send people here to the website for information.  If you have not joined in the fun on Facebook, check me out at MakingScrappyQuiltsWithCharlotte. I love seeing all your hard work and getting to chat with you a bit.
Please feel free to direct others to this website for the information and clues. 
THANK YOU FOR YOUR COOPERATION!
© 2023 Charlotte Hawkes. All rights reserved.
Written permission is required to copy and/or distribute copies of this pattern whether or not you profit from it.