Well, we made it through another month!
I just came back from a lovely weekend retreat. What a great way to break up the winter doldrums!  Nothing's better than laughing and sewing with a bunch of like-minded friends.  I rarely make anything that isn't truly scrappy but I subscribed to the block of the month from Missouri Star.  I was three months behind so I thought this retreat would be a good opportunity to get caught up.  This quilt is way out of my traditional scrappy comfort zone. But I suppose with the number of different fabrics that are involved it could be described as scrappy. I've never purchased a block of the month before and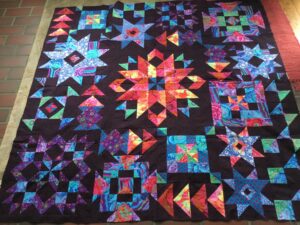 Kaffe isn't my normal cup of tea but I have to say I have enjoyed the process.  I still need to do the border but that's another retreat, I think! I have to say, I don't know if I could sleep under this though…..it's not exactly what I would call restful! But it sure is bright!!!  And colorful!!! And I do like it!!!
I always enjoy seeing your progress postings on Facebook.  We'll be putting a little more meat on the blocks this month.  I know those of you who are doing the small size haven't had much to do.  The medium size has had a little more but WHOA the large size is a different subject.  I have been making the large size right along with you although I'm probably a clue ahead.  Cudos to the brave who are doing the large size.  I'm looking forward to seeing the "Surprise" in the middle of this quilt!
I hope you haven't had too many issues with the bias edges.  The next two clues will present more of the same.  I've tried to match the bias edge with a straight edge so hopefully you should have less problems.  I just let my machine do the work feeding the fabric through and only try to guide it.  Basically, I'm a lazy quilter.  I don't like to pin or starch or do anything (even square up).  I just want to sit and sew.  But trimming and pressing are essential to good results so I definitely make sure I do what is necessary for it all to come together nicely and correctly.
OK.  Time for the Clue! We'll be finishing up the star blocks.
Pinwheel Surprise – Clue #3
Select one star block that was made last month.  Select 2 matching 5″ colored squares and cut them on both diagonals.
Using the 4 1/4″ squares from last month.  Sew sections of the 5″ colored squares as shown  below.  Press and trim dog ears.    
Sew one section to each side of the star block as shown.

Using one 5″ inside border colored square cut on both diagonals, sew sections to the two remaining sections as shown below.

Sew these two sections to the star block as shown below.  Press and trim to a 12″ block.

Repeat for all the remaining star blocks. 6 (12) 20 total.
………………………
The next clue will arrive on April 13th.
See you next month and Happy Quilting!
PLEASE DO NOT SHARE THIS INFORMATION ON FACEBOOK.
I ask that you send people here to the website for information.  If you have not joined in the fun on Facebook, check me out at MakingScrappyQuiltsWithCharlotte. I love seeing all your hard work and getting to chat with you a bit.
Please feel free to direct others to this website for the information and clues. 
THANK YOU FOR YOUR COOPERATION!
© 2022 Charlotte Hawkes. All rights reserved.
Written permission is required to copy and/or distribute copies of this pattern whether or not you profit from it.